The Most Visually Appealing
Prophecy Book

Ever Published

author of The End Times in Chronological Order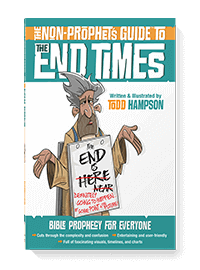 About the Book
Does it feel like words such as rapture and apocalypse fly right over your head? It's common to dismiss these and other topics related to Bible prophecy as irrelevant and...well...too complicated. But God's Word says, "Blessed is the one who reads aloud the words of this prophecy..." (Revelation 1:3).
Prepare to be blessed in an entertaining and meaningful way! The Non-Prophet's Guide to the End Times combines engaging illustrations with down-to-earth explanations to help you navigate the ins and outs of Bible prophecy. There's no better time to grasp God's plans for the future—and for you—than this very moment.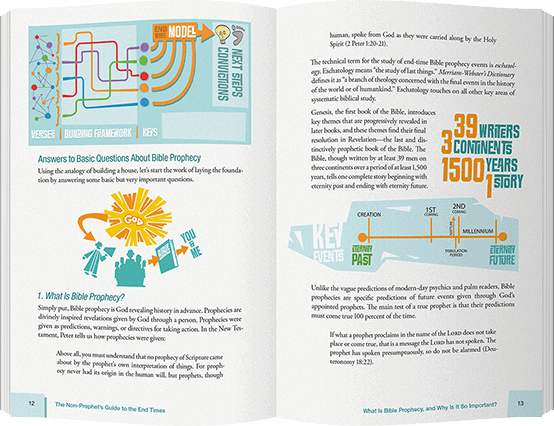 Great for Visual Learners.
"This guide is great! Anyone interested in Bible prophecy will enjoy this book—especially visual learners."

Dr. Mark Hitchcock,
author of 101 Answers to Questions About the Book of Revelation
The Non-Prophet's Guide to the End Times offers attention grabbing visuals, with a light-hearted, yet reverent approach to Bible Prophecy. Full of visuals that break down the often hard to understand timelines and chronology of biblical prophecy into easy to understand and visually appealing charts, models, infographics, illustrations and more.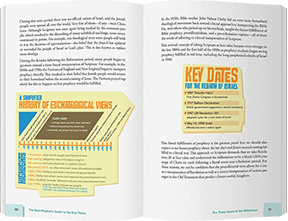 Creative. Informative. Encouraging.
"Creative. Informative. Encouraging. A great resource! The Non-Prophet's Guide to the End Times takes Bible prophecy and creatively translates it into a language for all people."

Jeff Kinley,
author of As It Was in the Days of Noah
Full of facts and based in Scripture, The Non-Prophet's Guide to the End Times is loaded with information. It not only provides a clear overview of end-times events, but it guides readers into a deeper personal commitment to the Lord as they are reminded that He is perfectly in control of world history and the details of their lives.
Test Your Bible Prophecy Knowledge
Frequently Asked Questions
I have studied Bible prophecy for years. Will I get anything out of this book?

Yes! It helps seasoned prophecy students sharpen their ability to talk about Bible prophecy in a way that is linear, logical, and understandable. It is also inspirational for prophecy students who need encouragement and clarity about their personal calling.

Will my grandchildren learn from this book too?

Absolutely! No matter how young or old you are, the Non-Prophet is a light-hearted character who provides comic relief and breathing room in the often weighty and always exciting discussions about end-times prophecy. He breaks down Bible prophecy and makes it fun and easy to understand for all audiences.

Who is the Non-Prophet?

He's a Renaissance man. The ultimate throwback. He prefers the clothing, speech, food, facial grooming (or lack thereof), and customs of an archetypical Old Testament prophet, living in 21st-century America. His prophetic insights are ill-timed as he hails from rooftops things that have already occurred. His poorly timed oracles miss the mark and land well outside the bounds of any real usefulness. He epitomizes the phrase "a day late and a dollar short."

Could I use this to teach a small group or class?

Of course! The Non-Prophet's Guide to the End Times is chockful of quick facts, charts, timelines, and much more—perfect to spark lively discussion and study. You can even get The 40-Day Guided Journal as a tool to help lead the group discussions. Whether on your own or with a crowd, the Non-Prophet has a lot of lessons to teach you.
Exlusive Bonus Gifts with Purchase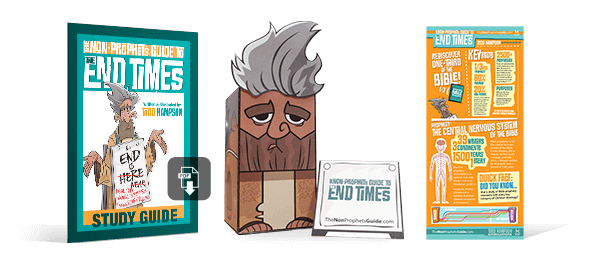 40-Day Study Guide | Non-Prophet Guide Pop-up Craft | Infographic
2. Claim Your Bonus Gifts
Understand Bible Prophecy Like Never Before
Buy Now