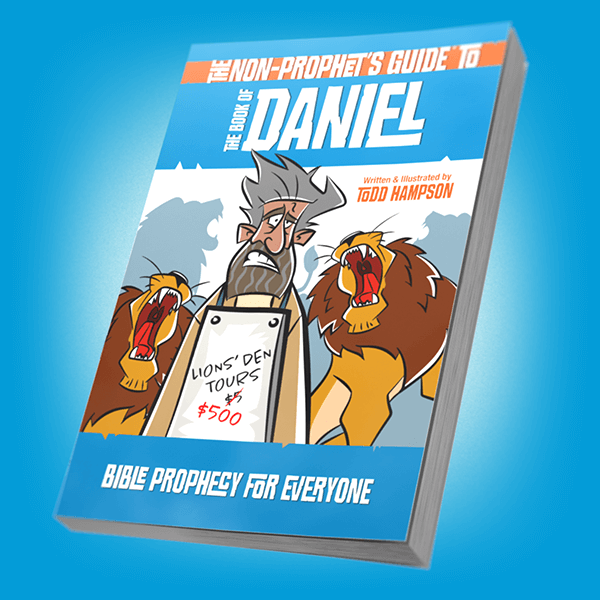 Dare to Be a Daniel!
Bold Faith for Unstable Times
Learn More
Discussions about the supernatural, the unseen, and the prophesied future can seem confusing and even frightening. But with the Non-Prophet's Guide series, bestselling author and illustrator Todd Hampson breaks down some of the Bible's perspective on these challenging and perplexing topics, allowing you to both understand them and rejoice in how they reveal God's character. With illuminating graphics and thoughtful Biblical insights, you can understand what God really says about prophecy, the end times, spiritual warfare, and more!
"I prefer my end-times discussions to be a little more rational and less sensational. And that's why I'm a huge fan of Todd's material. He takes a serious subject and makes it clear and sensible."

"This guide is great! Anyone interested in Bible prophecy will enjoy this book—especially visual learners. All the graphics and sidebars make the information come alive. If you're looking for an accurate, accessible guide to what's coming, you've found it."

"As readers explore the end times, they will gain a profound sense of the nearness of Christ's return. This is achieved through in-depth examination with shoe-leather-on-the-pavement simplicity."
Frequently Asked Questions
I have studied Bible prophecy for years. Will I get anything out of this book?
Yes! It helps seasoned prophecy students sharpen their ability to talk about Bible prophecy in a way that is linear, logical, and understandable. It is also inspirational for prophecy students who need encouragement and clarity about their personal calling.
Will my grandchildren learn from this book too?
Absolutely! No matter how young or old you are, the Non-Prophet is a light-hearted character who provides comic relief and breathing room in the often weighty and always exciting discussions about end-times prophecy. He breaks down Bible prophecy and makes it fun and easy to understand for all audiences.
Who is the Non-Prophet?
He's a Renaissance man. The ultimate throwback. He prefers the clothing, speech, food, facial grooming (or lack thereof), and customs of an archetypical Old Testament prophet, living in 21st-century America. His prophetic insights are ill-timed as he hails from rooftops things that have already occurred. His poorly timed oracles miss the mark and land well outside the bounds of any real usefulness. He epitomizes the phrase "a day late and a dollar short."
Could I use this to teach a small group or class?
Of course! The Non-Prophet's Guide Series is chockful of quick facts, charts, timelines, and much more—perfect to spark lively discussion and study.